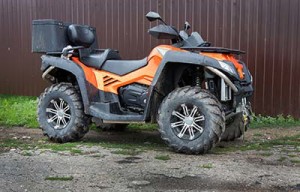 Its ATV season in Upstate New York and every year, riders are killed or seriously injured in our area. New York has some of the highest fatal ATV accident rates in the country.
If you're thinking of buying an ATV, or you already have one and you're ready to head out, take a few minutes to do a little homework and familiarize yourself with some key safety precautions to take when operating ATVs. It might save your life or the life of someone you love.
Key Safety Tips for Operating an ATV:
Do not drive an ATV on paved roads.
Do not allow a child under 16 years old to drive an ATV unless it is an age appropriate model.
Do not drive ATV's with a passenger or ride as a passenger.
Always wear a helmet and other protective gear such as eye protection, boots, gloves, long pants and long sleeve shirts.
Take a hands-on safety training safety training course.
The ATV Laws in New York State:
No passengers are allowed on the ATV unless it is designed to carry more than one person.
All riders (operator and passengers) must wear a helmet at all times.
All ATV's must be registered with the Department of Motor Vehicles, renewing registration once every year.
ATV use on highways is prohibited, except to cross these roads.
No one under 10 may ride or operate an ATV.
Operators between 10 and 15 may ride an ATV if they are on their parents land and supervised by a parent, or on their parents land and in possession of a safety training certificate.
No ATV shall be operated without a lighted headlight and taillight from a half hour after sunset until a half hour before sunrise.
Can You Drive an ATV On the Roads in New York?
One of the most commonly asked questions about NY ATV laws is whether or not ATVs are 'street legal' in the state of New York. As noted above, all terrain vehicles must be registered with the Department of Motor Vehicles, but it is not legal to operate them on public highways.
The only exception to this rule is if a highway has been designated and posted for ATV use. Typically, these sections of highway are short distances that connect off-road trails.
For more information about ATV ownership and operation in the state of New York, please refer to the NYS Department of Motor Vehicles website.
Safety Tips for Children on ATVs:
More than 90% of ATV-related injuries involving children can be attributed to a lack of developmental skills needed to maneuver the faster, more powerful adult ATV's.
Children younger than 16 years old should be on age appropriate youth models, which are required to travel at lower speeds than adult ATV's and to have an adjustable speed limiter.
All ATV's should be equipped with a label that indicates the manufacturer's recommended age for that particular model.
Children younger than 6 years old should never be on any ATV-either as a driver or as a passenger.
Avoid ATV Accidents – Put ATV Safety First
This summer and fall, have fun riding but be sure to put ATV safety first!
There are numerous causes for ATV accidents and even if you follow all ATV laws and safety precautions, you may find yourself injured. If you or a loved one is injured in an ATV accident caused by the negligence of another individual or a defective ATV part, you may be entitled to compensation.
Get the Help You Need After a New York ATV Accident
If you've been injured in an ATV accident in Albany, Saugerties, Johnstown, or elsewhere in New York State, contact the ATV accident attorneys at Maynard, O'Connor, Smith & Catalinotto. Our team of legal experts has decades of experience representing injured individuals just like you. We can help you determine which course of action to take after you've been injured and assist you as you seek the compensation you deserve.
After an ATV accident, don't wait. Get the help you need to obtain the compensation you are entitled to. Learn more about what sets us apart from other ATV accident attorneys in the area, then give Maynard Injury Law a call at (800) 721-3553 or contact us online using the form below. We'd be happy to guide you as you recover from your injuries and get back on your feet.
Editor's Note: This content was originally published in 2016 but has been updated as of March 2020.