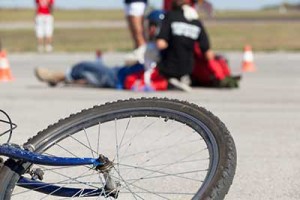 We've talked about personal injury awards in car accidents given New York's no-fault system quite a lot on this blog, including this post on New York's serious injury threshold and this one on who pays for injuries to cyclists.
But what happens if you don't own a car (and therefore don't have no-fault coverage yourself) and you are injured by the driver of a stolen car, or a driver who is uninsured, or a driver who leaves the scene of the accident? Who can you turn to make you whole after your injury?
Fortunately, the State of New York has an indemnification fund for this very purpose: the Motor Vehicle Accident Indemnification Corporation (MVAIC).
What is MVAIC?
The Motor Vehicle Accident Indemnification Corporation (MVAIC) pays auto accident victims, pedestrians, and cyclists in just the types of situations described above. The MVIAC provides both no-fault benefits up to $50,000.00, and coverage for up to $25,000.00 per person injured in a crash.
Am I Eligible for MVAIC?
In order to make a claim under the MVAIC, you must meet the following requirements:
You were involved in a motor vehicle crash in New York.
You were a resident of New York when the crash occurred.*
You have no other automobile insurance available to you. If you or any of your household relatives own an insured motor vehicle, you will be required to file a claim with that insurance company to see if you are covered under that policy for benefits.
You were NOT the owner of the uninsured vehicle that was involved in the crash.
You were NOT the spouse of the uninsured vehicle's owner, and a passenger in that uninsured vehicle.
* In some cases, residents of other states may be eligible for MVAIC benefits. If you are a non-resident we can help you figure out if you are eligible to make a claim. Call Maynard O'Connor at (800) 721-3553Â or contact us to schedule a free, no-obligation consultation with an experienced car accident attorney.
What are the MVAIC Time Frame Requirements?
MVAIC insurance coverage is available to accident victims without other forms of no-fault insurance only if strict time frame requirements are met. The following report time frame requirements need to be met to ensure your eligibility:
The accident must be reported to the police within 24 hours.
If the accident was with a hit and run or unidentified motor vehicle, a notice of intention (NOI) is submitted within 90 days.
If the accident was with an identified motor vehicle, an NOI must be is submitted within 180 days.
Get The Help You Need When You've Been Injured in a Car Accident
The time following an accident can be incredibly challenging, especially if you don't have no fault insurance coverage to help you through.
If you need assistance navigating the complex issues you're facing as a result of your accident, turn to the personal injury attorneys at Maynard, O'Connor, Smith & Catalinotto. Our team has substantial experience with all types of personal injury claims, including MVAIC claims. We can help you determine whether or not you are eligible for MVAIC and guide you step by step in your quest to obtain the compensation you deserve.
If you've been involved in a New York car accident and you think you have a MVAIC claim, call us today at (800) 721-3553, schedule a free consultation online, or contact us using the form below. We can help you get the compensation you need – and deserve – after you've been involved in an accident caused by someone else's negligence.
Take the first step towards getting the assistance you need to protect your rights. Contact us today.
Related Resources
Understanding New York's Serious Injury Threshold – Find out what constitutes a 'serious' or 'grave' injury in the state of New York and learn if the injuries you sustained satisfy the NYS serious injury threshold and entitle you to pursue compensation.
FAQs About No-Fault Insurance – Understand the details about no-fault insurance, including what it covers, who it covers (and who it does not cover), so you can determine which type of coverage applies to you following an accident.
SUM Insurance Coverage: Protection from Uninsured and Underinsured Motorists – Learn about the benefits of investing in SUM insurance coverage and find out how it can help you if you are involved in a car accident with an uninsured or underinsured motorist.
Editor's Note: This content was originally published in 2014 but has been updated as of December 2019.