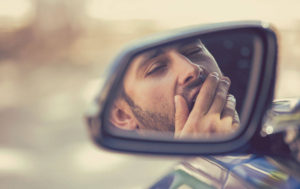 We've all seen the frightening statistics of drunk driving accidents in the news, but a relatively unreported threat on the road are drowsy drivers. Sleepiness can have just as much impairment on driving as alcohol–did you know being awake for more than 20 hours is equivalent to a 0.08 blood alcohol concentration?
The National Highway Traffic Safety Administration estimates each year that 100,000 car accidents are primarily caused by drowsy or asleep drivers, resulting in 71,000 injuries and 1,550 fatalities. If you have been injured because the operator of another car or truck fell asleep at the wheel, you may be entitled to compensation for your injuries. While it may seem at first glance that liability in such cases may be easy to prove, unique case law often complicates determination of liability in these accidents.
Who's at Risk for Encountering Asleep Drivers?
The common misconception is that asleep at wheel accidents only occur at night. In fact, you can share the road with a drowsy driver anytime of the day. While anyone who drives is at risk of falling asleep at the wheel, some motorists are more at risk than others, including:
Drivers with sleep disorders like obstructive sleep apnea
Drivers under the influence of alcohol or medication
Young drivers who often get little sleep and are inexperienced with driving
Shift workers who work double shifts or late hours
Commercial drivers who travel significant distances, especially at night
Business travelers who may be suffering from jet lag or traveling home late at night after a long trip
Who's At Fault For Driver Asleep Accidents?
In general, under the New York Vehicle & Traffic Law, all drivers must exercise "reasonable care" in the operation of their vehicles. In many cases, the mere fact that another driver fell asleep at the wheel creates what is known as a "presumption of negligence". This means that you will be entitled to a finding of liability in your favor unless the other driver can establish a non-negligent explanation for their conduct. As you may imagine, this defense can be very difficult to prove.
However, be aware that some case law also supports the proposition that falling asleep at the wheel does not give rise to an automatic presumption of negligence, and that the burden is on the plaintiff to show that the other driver continued to drive, despite being aware that he or she may fall asleep. This issue can be very fact-specific and may require detailed investigation and taking testimony from witnesses to the accident and developing proof regarding the other driver's prior actions.
Victim of Asleep Driver or Drowsy Driver Accident? Let Us Help Get You The Compensation You Deserve
When you've been involved in a car crash like an asleep or drowsy driver accident where proving negligence is key, having a solid attorney conversant by your side can make all the difference in pursuing the compensation you deserve.
At Maynard, O'Connor, Smith & Catalinotto, our team of car accident attorneys is skilled in handling all types of car accident cases, from trucking accidents to proving negligence in car accidents and more. We know what it takes to get you the compensation you deserve and we've achieved impressive awards and settlements for clients in the past.
Serving Albany, Saugerties, Johnstown and beyond, we are familiar with the legalities of car accidents in Upstate NY and have the knowledge and experience necessary to obtain the compensation you are entitled to for the injuries and damages caused by someone else's negligence.
If you want a lawyer that will fight for you and obtain justice for your injuries after an Upstate NY car accident, contact us today! Give us a call at (800) 721-3553 or contact us online to schedule a free consultation with one of our experienced car accident attorneys.
Looking for more information about the steps to take after a serious car accident? Be sure to review the following resources:
Why You Should Hire a Lawyer to Represent You After You've Been Injured in a NY Car Accident – If a car accident left you injured and you believe it was caused in whole or in part by the negligence of another individual, it is in your best interest to work with a personal injury attorney as you pursue compensation. Don't risk it by going it alone. Find out why!
What to Do At The Scene of An Accident & In The Weeks & Months Afterwards – There are a handful of important steps to take to ensure that your rights are protected after you've been involved in a car accident. Find out what to do immediately and to follow up after a car crash in NY.
Pursuing Compensation From Uninsured & Underinsured Drivers – Some drivers won't have enough insurance to compensate you for damages after an accident, while other drivers aren't insured at all. Find out how SUM insurance coverage can protect you.
Editor's note: This content was originally published in 2014 but has been updated as of August 2019.